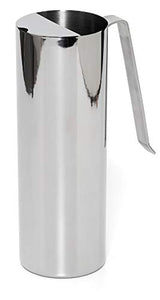 Bezrat Stainless Steel Water Pitcher/Carafe With Ice Guard [68 Ounce]
Discover A Contemporary, Elegant & Heavy-Duty Water Pitcher That Will Upgrade Your Kitchen Arsenal!
Looking for a heavy-duty, virtually indestructible metallic carafe? Sick and tired of ice cubes accidentally being poured in your drinks?
Presenting The Ultimate Stainless Steel Water Pitcher By Bezrat
If you have tried similar plastic, glass or even metallic water pitchers in the past, then you know they are not all created equal. In fact, here?s why you should choose ours without a second thought.
INTEGRATED ICE GUARD ?Our ice guard addition will not only prevent accidental spills but it will also ?catch? ice cubes before they have a chance to fall in your glass or cup. This way, you can enjoy ice-cold drinks without having to chew through ice cubes all the time!
HEAVY-DUTY BUILD ? Made from Stainless Steel, this water carafe is as durable and long-lasting as it gets. Contrary to glass pitchers, it will not break, even if it accidentally hits your sink or falls on the ground.
BPA-FREE, SAFE DESIGN ?Since there are NO plastic components, our Stainless Steel water carafe is 100% BPA-free and perfectly safe for the health of children and adults.
USE IT IN MANY DIFFERENT WAYS ? Great for home and professional use, the Bezrat water pitcher can be used to serve water or any similar cold drink and beverage, including iced tea, iced coffee, lemonade, orange juice and anything else you can think of!
Plus, even if you are not completely thrilled with your brand new water pitcher, your purchase is covered under our 30-Day Refund Guarantee.
Just Scroll Up, Click ?Add To Cart? And Get Your Very Own Bezrat Stainless Steel Water Pitcher!
---
We Also Recommend
---